What is Cubits?
In a nutshell: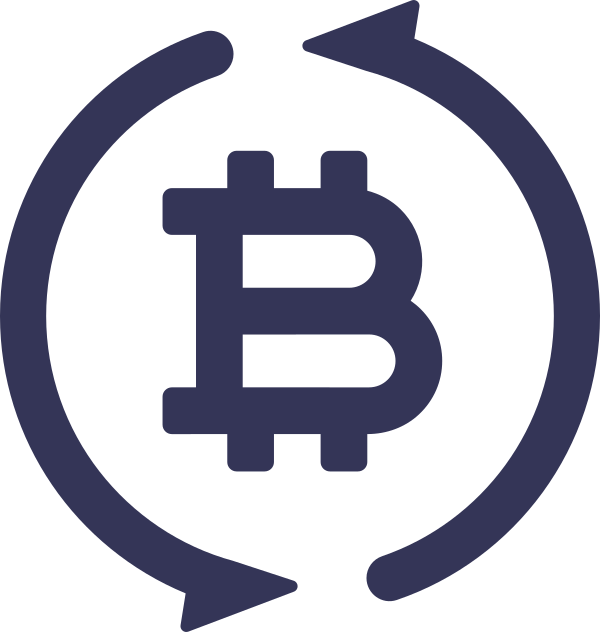 Cubits is a complete bitcoin service.
What we mean by that is that Cubits offers everything you need to go from owning zero bitcoins to buying, exchanging, using and selling them. Like a bitcoin pro.
In other words.
Cubits is both a bitcoin exchange and a bitcoin wallet.
Which means that when you have an account on Cubits you can both:
Buy and Sell Bitcoins
Store Bitcoins
The best part?
Cubits is what we call mom-proof.
What is mom-proof you might wonder?
It is our way of telling you that Cubis is so easy to use that our moms, with no bitcoin experience, and let's be honest very, very limited computer skills, managed to use it.
So let's take a closer look at how the Cubits service works by looking at both legs, the exchange, and the wallet.
Cubits Exchange

The Cubits Exchange is the first leg and the place where you buy and sell your bitcoins. The exchange links together buyers and sellers from all around the world in a common marketplace so that you can buy and sell your bitcoins in real time.
Sounds advanced and maybe a bit confusing doesn't it?
You bet!
But thanks to the Cubits interface you don't need to worry about that.
Both selling and buying bitcoins is as easy as ABC.
But more about how to use the exchange later.
Just one more thing before we move on.
Don't be fooled by the easy to use Cubits interface.
Behind it, the technology, security, and complexity are very advanced and highly secure so that you can reap the benefit of fast, secure and hassle-free transactions.
Now let's take a look at the other function of Cubits, the wallet.
Cubits Wallet
The Cubits wallet is the second leg on Cubits. This is the place where your bitcoins are stored.
Have you ever used an online wallet before?
Or have you ever used an ordinary wallet before?
Our guess is that you have and our point is that the Cubits online wallet works just as other wallets online or even as your ordinary physical wallet.
Only without family pictures.
Let's pause here and clarify what the wallet is just to be sure you understand.
Do do that we will compare it with the exchange.
The Exchange is where you buy and sell your bitcoins.
The wallet is where you store them.
Not clear enough?
Picture this.
You are going on a tropical vacation to another country (amazing, we know).
Before you go on your well deserved holiday you want to have some local currency. So you go to your local exchange office and trade your local currency to the local currency of your holiday destination.
Makes sense doesn't it?
This is the equivalent of the Cubits bitcoin exchange. The place where you buy your currency using another currency.
When you have managed to exchange your currency you put the cash in the wallet and put it in your back pocket.
This, of course, is the equivalent of the bitcoin wallet. The cash or in Cubits case the bitcoins is ready to be used!
The only difference is that theCubits bitcoin walletis online and the currency is of course bitcoin.
By now you should understand what Cubits is, what a bitcoin exchange is, what a bitcoin wallet is and the difference between them.
So let's take it to the next step and see how easy it is to actually use Cubits.
How to open an account on Cubits
We know what you might be thinking.
Isn't it complicated to open an account?
or
I have never bought or used bitcoin isn't it hard?
Hardly!
We have prepared a step-by-step guide (with pictures) so that you can go from Cubits zero to Cubits Hero!
So don't worry it's mom-proof, remember?
How to open a**Cubits account step-by-step**
First head over to Cubits by clicking here. You will be greeted with this: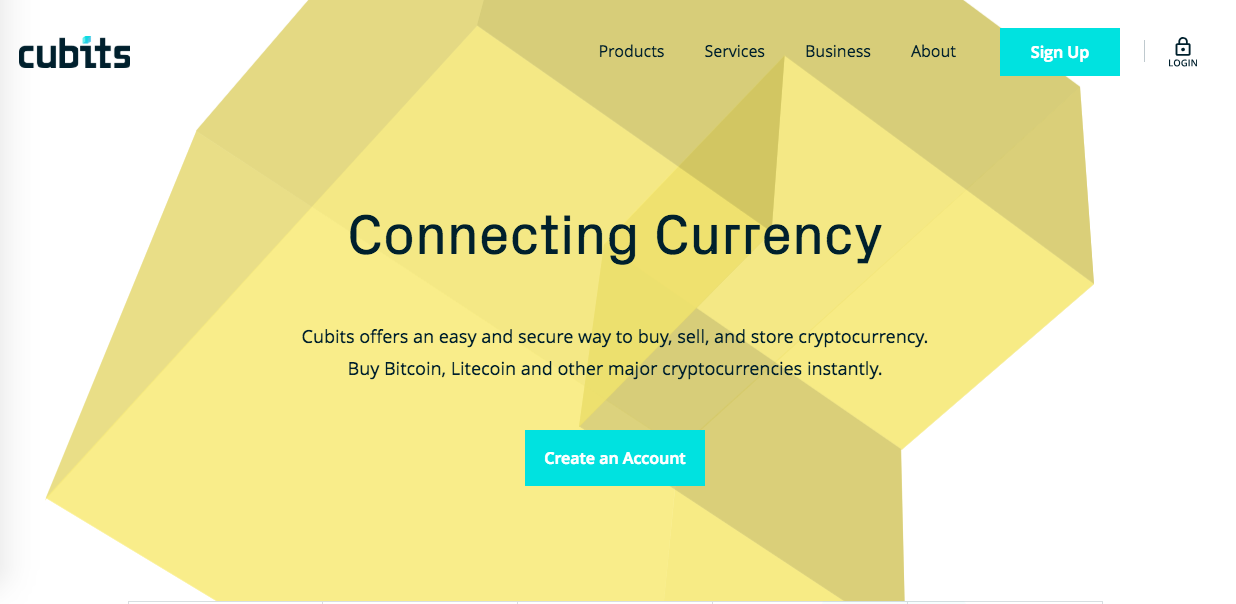 So far so good.
Click on "Create an Account" in the middle of the Cubits page or the Sign up" button you will find in the top right corner.
You will be redirected to a sign-up page that looks like this: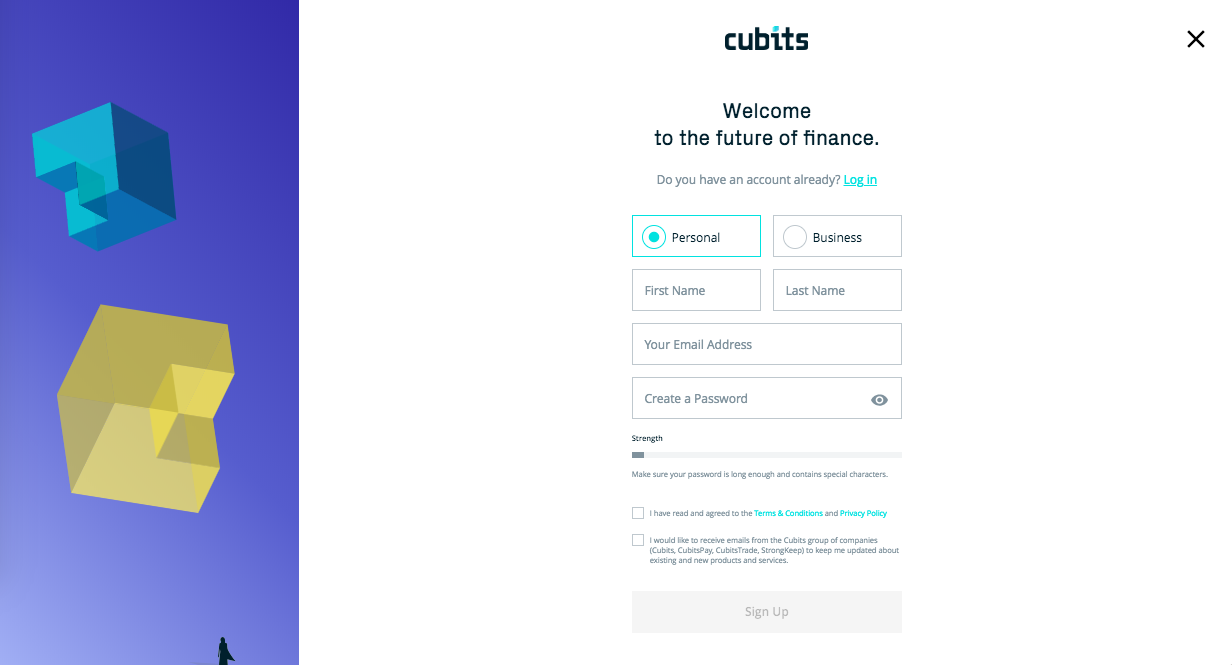 The signup process is very easy. Just state your Name, Last Name, E-mail, and password. Remember that you are required to use a special character in your password!
At the bottom, you need to agree with the Terms and Conditions by checking the top box.
Optional: Check the second box as well if you want to receive e-mails from Cubits. Click Sign Up.
Voila! Your account has been created!
You will receive an e-mail where you are asked to confirm your account.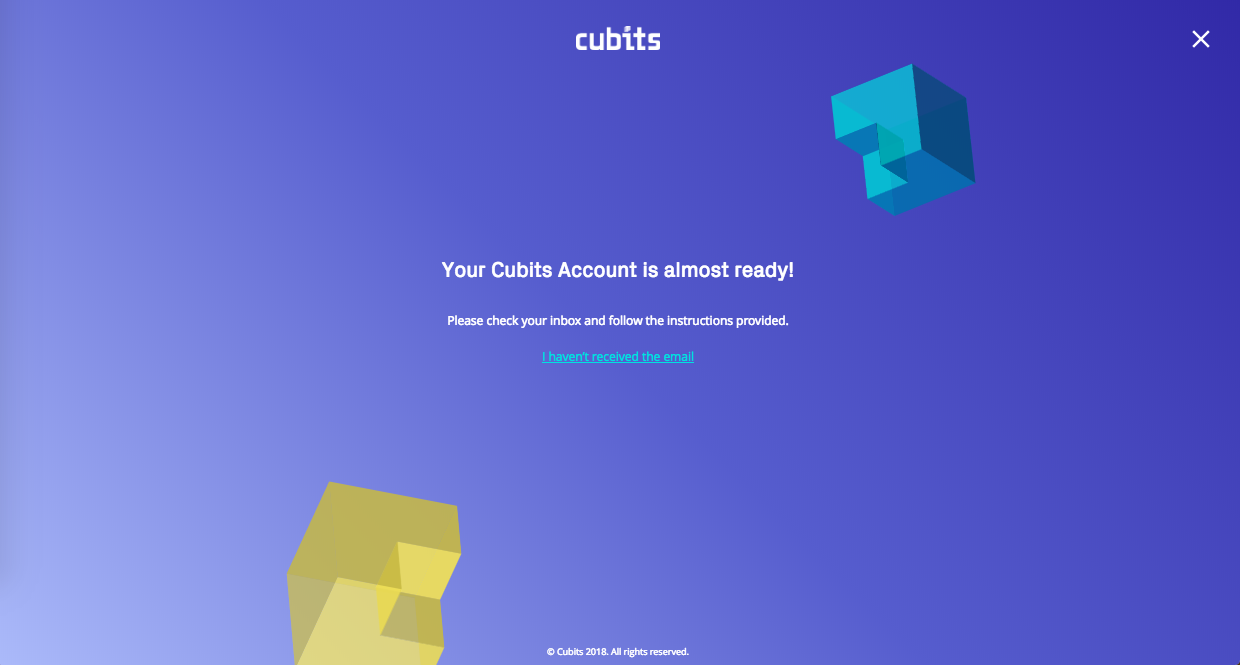 Just click the link and verify your email address.
Done!
Now you can log in to your fresh account. The whole process took us about 1-2 minutes.
Now it's time to log in and finish things up.
OPTIONAL: First we strongly recommend you enable the Cubits two-factor authentication.
This is an extra security measure that adds an extra layer of security to your account.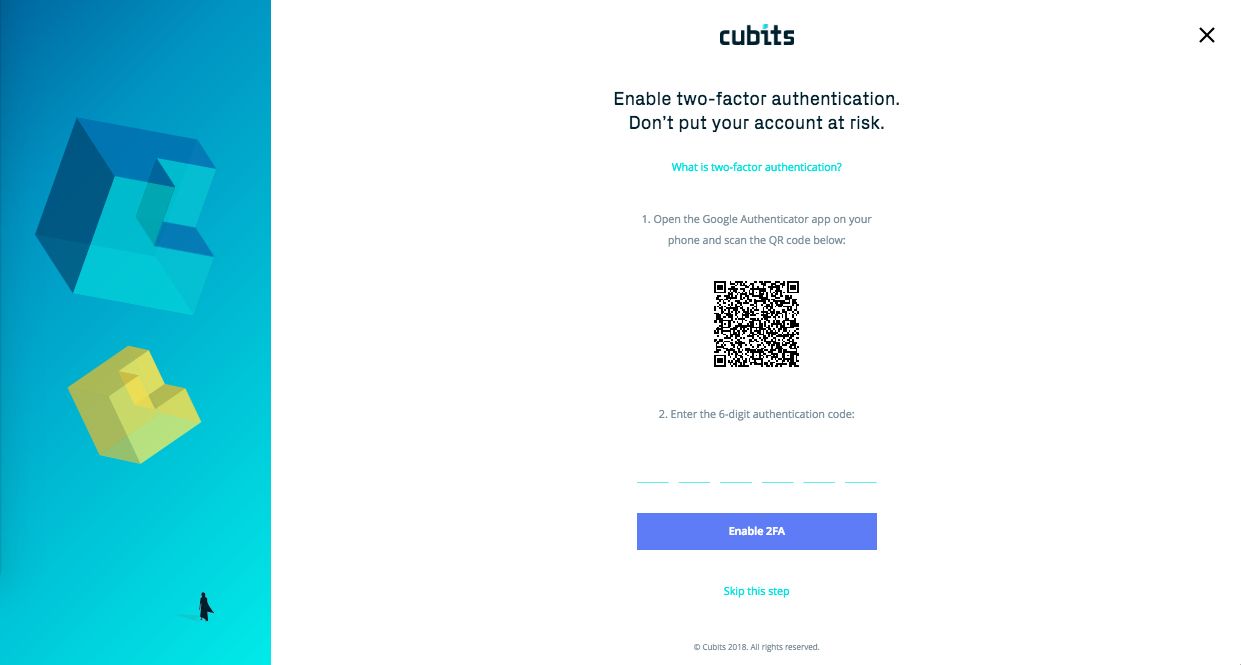 You will need to download and install the Google Authenticator App on your phone:
To authenticate your account follow these three simple steps:
Download and open the Google Authenticator App
Use the scan option in the app and scan the QR code on Cubits
Enter the 6-digit authentication code from the app on the web browser.
Done!
The last step before the account is 100% ready to rock is to verify your identity.
Yes, this app requires you to send in an ID to verify your identity.
In the top right corner next to your name you will find the option to verify. Press the small arrow and choose settings.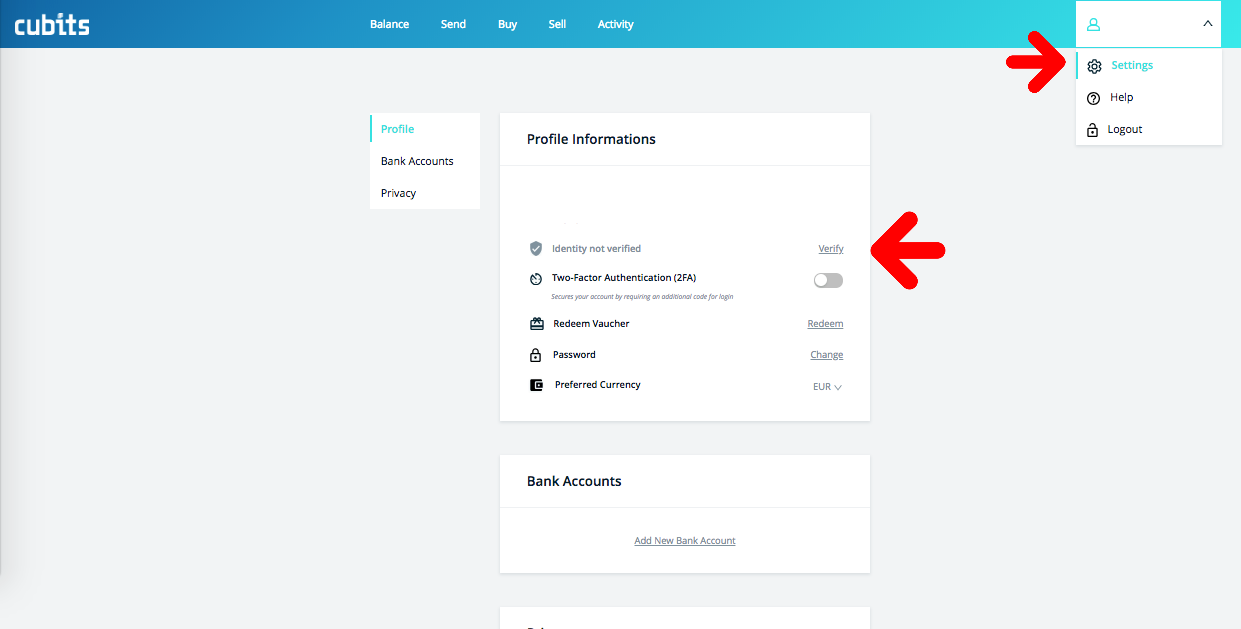 You might be wondering why you need to verify?
The answer is that Cubits is a UK based company that needs to adhere to the Anti-Money Laundering regulations.
They do this in cooperation with a company called IDnow.
When you press verify me on your Cubits account an IDnow pop-up will be shown. It looks like this: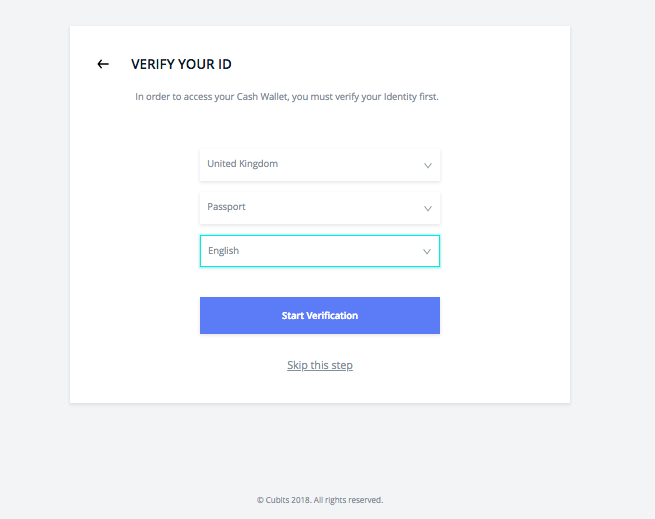 We know.
This is pretty self-explanatory but put the country of origin, the document type you wish to upload. In the case of UK, only passports are valid. But other countries might accept different types of government ID.
Just a reminder:
Remember that this verification is a one-time process. When this is done you can use Cubits unhindered.
Choose your language and press start verification.
You will be redirected to this page.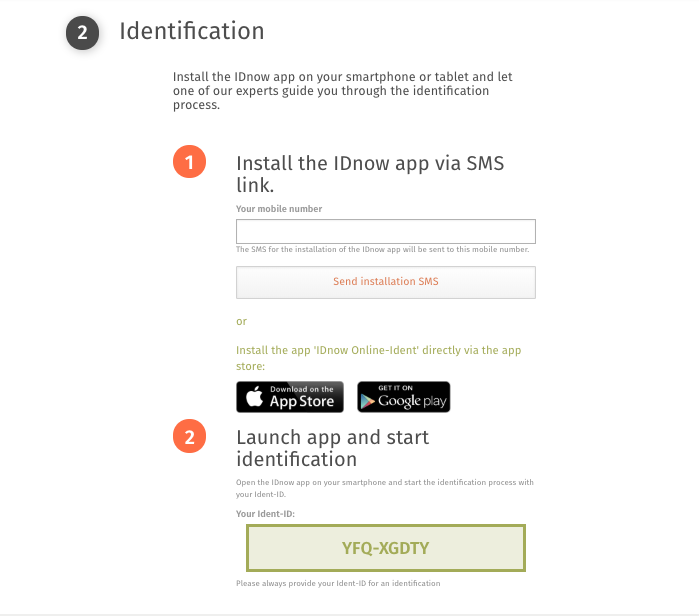 You are almost done.
Just follow these steps:
Enter your mobile number (you will receive a text message with a URL to install the IDnow app.2. Install the app and enter the code you will see in the green box at the bottom.
That's it!
Your account will be verified and you can start using Cubits!
Once again this is a one-time verification and not something you will have to do every time you want to use Cubits.
When we did the whole process, from creating the account to sending in our verification documents it took seven minutes. No more, no less.
Now we are ready to rock'n roll.
Or at least start using Cubits.
How to navigate on Cubits
The user interface is pretty easy to understand. So let us keep it short and simple. The top menu looks like this:
From the left:
We will find the Cubits Logo.
Pressing the logo takes you to your balance.
In the middle, we see the menu. Balance, Send, Buy, Sell and Activity.
On the Right:
We have an expandable menu where you find your accounts settings, help section and log out button.
We are almost done with the navigation part.
When you log in to you Cubits account you will automatically land in the Balance Section. It looks like this: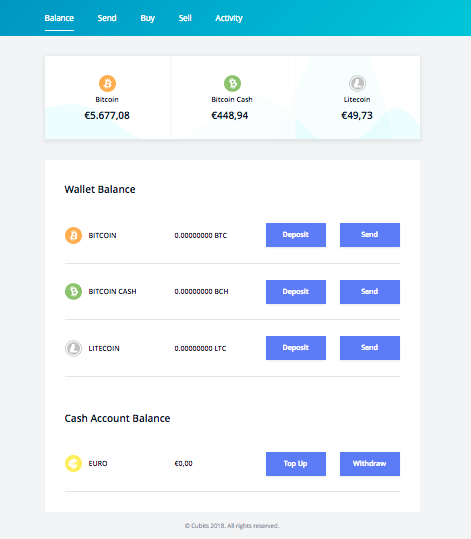 As you can see it is very simple.
There are three sections in the wallet which make it thicker than George Costanza's wallet.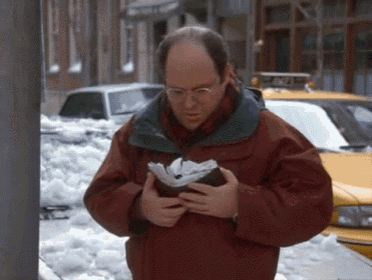 Not really.
At least not before we buy some bitcoins.
But more about that later.
The three Cubits wallets parts from the top are:
Buy Crypto Currency - Buy Bitcoins, Bitcoin Cash or Lite Coin.
Wallet Balance - Overview of your balance.
Cash Account Balance -Overview of your fiat balance.
There you have it folks, all you need to know about how to navigate on Cubits.
But it gets better.
Now it's time to buy our first bitcoin.
How to buy Bitcoins with Cubits - Step by Step
Your account is set-up and you have familiarized yourself with the account. Now it's time to get us some bitcoins. To do that we head to the Cubits bitcoin exchange.
Either click on Balance and hover over the Bitcoin logo and press Buy as such:

Or go directly to Buy by using the top menu and clicking Buy:

This will take you to the Buy page. Also known as the Exchange.
The buy bitcoin page or we can call it the deposit page looks like this: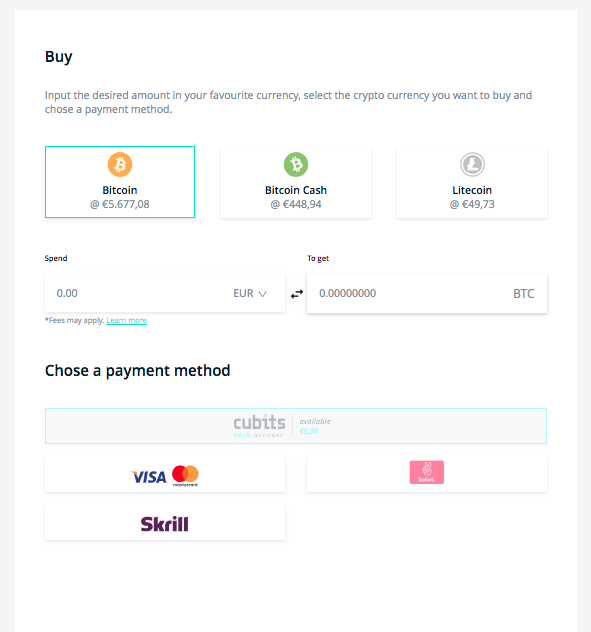 To buy bitcoins simply enter the amount (in fiat) you want to buy and you'll see the number of bitcoins you will receive.
Then choose your payment method and press buy.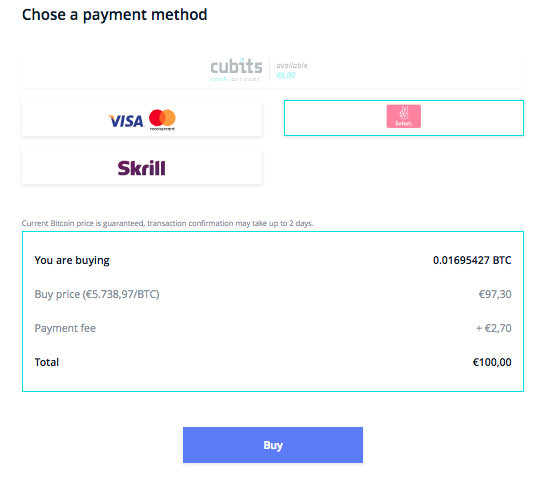 Depending on what country you are based in you can use one of the following methods to buy bitcoins:Cash account
If you have sold bitcoins using Cubits before and not withdrawn your local currency you can use the balance to make a new BTC purchase.
Fee:0%
Time:Instant
Visa or Mastercard
Use your credit card to buy bitcoins. Cubits support 3D secure if your bank or financial institution requires it.
Fee:5% +**€5Time:** Instant (may need verification, in that case, up to 3 days)
Sofort (Sofortüberweisung)
Connects your personal banking account and makes a purchase. Supported currencies: EUR, GBP, HUF, PLN, CHF.
Fee: 1,8%
Time:Up to two days
Skrill
Use the popular online wallet Skrill to buy bitcoins. Use your existing Skrill account or set up a new one.Fee: 4,9% + €0,29
Time:Instant
Neteller
Another popular online wallet that you can use to buy bitcoins with.
Fee: 4,9% + €0,29
Time:Instant
SEPA
The European bank transfer system that uses wire transfers. Available for most European countries.Fee: €0
Time:1-3 Business Days
International Bank Transfer (SWIFT)
Use the global bank transfer system SWIFT. For users from outside the SEPA zone.
Fee: €16
Time: 3-5 Business Days

Above: How the SEPA and International Bank Transfer work with Cubits.
When you have decided what amount of bitcoins you want to buy and deposit method press confirm.
You will be redirected to the last page that looks different depending on the deposit method. Just confirm the payment in the thirds step and your done.
Congratulations!
You are now the proud owner of bitcoin!
By now you'll have (hopefully) realized that it is quite easy to create a wallet and buy bitcoins.
Now it's time for our favorite part.
Using the bitcoins!
How to use Bitcoins with Cubits - Step by Step
The Bitcoins are bought and you might be wondering now what?
It is really up to you.
At the top of the page, you simply press send and you will be redirected to this page.
As you can see we have the whopping amount of zero bitcoins in our account. We hope that your balance is decisively bigger.
From here you are ready to start using your bitcoins.
The best part?
When everything is set up it is just as easy if not easier then using your credit card online.
Go to your favorite store that accepts bitcoins and fill your shopping cart. When it comes to paying chose bitcoin as a payment method and open up your Cubits wallet and go to Send.
Choose which part of the wallet you want to use; Bitcoins, Bitcoin Cash or Lite Coin.
In the box marked with the red arrow enter the Bitcoin recipient address.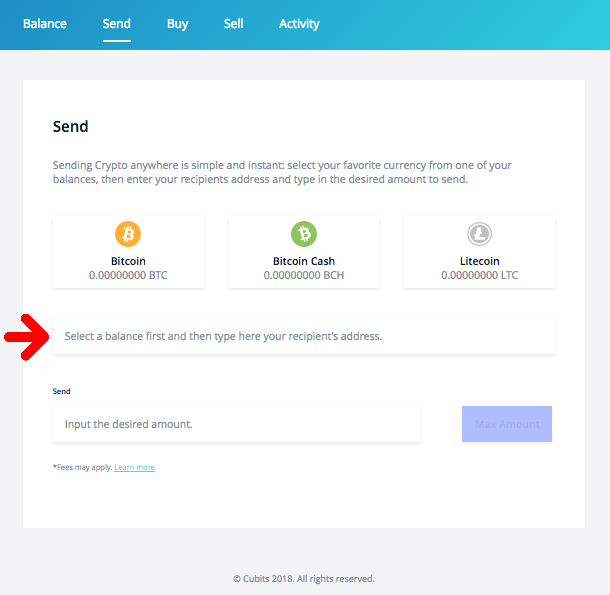 Finally, at the bottom enter the amount to send and press Send.
Perfect you are done!
We can almost sense what you are thinking.
Something in the lines with:
"This sounds great but setting up the Cubits wallet feels quite time-consuming."
Well to begin with it does only take a couple of minutes to both create, confirm and verify your wallet. This guide deep dives into how to do it and we use a lot of print screens to make it as easy for you as possible. It might seem that there are many steps but like we said earlier.
It only takes a couple of minutes
It's really easy (Mom-proof remember?)
It is true that some transactions to Cubits take a bit more time but when you have bought your first bitcoins you are good to go and we can promise you that it will both be easy and go very smoothly.
Still not convinced if Cubits is or is not right for you?
No problem.
Check out this next section with both Cubits pros and cons.
The Pros of Cubits
There****are a lot of pros when using the Cubits wallet, below you will find the most compelling ones.
Cubits is Fast
Cubits is fast both to set up as well as to use. The registration only takes a couple of minutes counting the time it takes to verify the account. Compare that with opening a new bank account or applying for a credit card! When the account is set up you can do transactions to all over the globe in a couple of minutes. Now that is fast!
Convenient
You can buy, sell and withdraw bitcoins, bitcoin cash and lite coins in a blink of an eye using your wallet. The wallet is accessible as long as you have an internet connection on your computer, tablet or phone. This means that you can access your funds wherever you are and whenever you want! or put another way;
All around the globe 365 days a year!
Easy
The Cubits Wallet is so easy to use that anyone (and we mean anyone) can use it! With the new design it is even easier to use then it used to be.
Secure
Cubits use several layers of security to keep your wallet safe. Cubits did not only comply with the best practices they took security to a new level and improved the industries standards.
Bitcoin, Bitcoin Cash and Lite Coin
At first, one could only trade and use bitcoins on Cubits. Nowadays both Bitcoin Cash and Lite Coin is available for users.
The Cons of Cubits
As with all things in life including crypto-wallets, there are cons as well.
Not US friendly
Cubits is not a US friendly wallet. To be more specific they don't allow users from the States to buy and sell cryptocurrency. But as a U.S. resident, you still can use the wallet to send and receive cryptocurrencies.
Not completely anonymous
This is actually a pro and a con. If you were looking to be a 100% anonymous this might not be the wallet for you since you need to send in documents verifying your identity. The good thing is that this adds an extra layer of security for your account and funds.
Cubits Casino
Using your Cubits wallet to play on a Casino is an excellent idea. It is perfect for the complete bitcoin beginner as well as for the more experienced cryptocurrency user.
To start using Cubits to play on a casino you only need to follow these two steps.
Step 1: Create a Cubits account and acquire your first bitcoins
Step 2: Deposit bitcoins to a casino
The first step on how to open a Cubits account and buy your bitcoins is described in detail above.
The second step will be described here.
Using Cubits to deposit to a casino
It is very simple to use Cubits to play on an online casino.
One thing we haven't mentioned yet is that a lot of online casinos actually uses Cubits themselves. Yet another strong argument why to use the Cubits wallet to play online. If it is good enough for the casinos it is good enough for us!
When your Cubits account is set up you need to choose a casino that accepts Cubits or Bitcoin as a payment. Click here to choose among the best Bitcoin Casinos.
When you have created your Bitcoin casino account you are ready to play.
Now you have:
A Cubits wallet with bitcoins in it.

An account on a casino that accepts bitcoins.
Now it's time to make a deposit and start playing.
Open up your casino account and log in. Go to Deposit.
On the deposit page, you will find either a bitcoin address code like this:

Or a bitcoin QR code looking something like this.

To make the deposit open up tour Cubits wallet and go to Send.
Some casinos that offer Cubits deposits you can do this while being logged in on the casino. Casinos that offer other bitcoin deposit systems you need to open the Cubits wallet in a new window or tab.
Either copy and paste the bitcoin code to your Cubits wallet or scan the QR code using the Cubits mobile webpage (the QR code is the same thing as the bitcoin address.)
Remember that this code and QR code is unique and will send the bitcoins to your casino wallet.
In the Cubits wallet choose Bitcoin at the top and then enter the code where the red arrow is:
Enter the amount and press send!
Done!
Go to your casino wallet and start playing.
How to withdraw with Cubits
When you are finished playing the withdrawal using Cubits is just as easy as the deposit.
Here is a step by step guide.
Step 1: Login to your Bitcoin casino account and choose to withdraw
Step 2: Open your Cubits account and go to Balance.
Step 3: In Balance press Deposit next to the Bitcoin part of your wallet.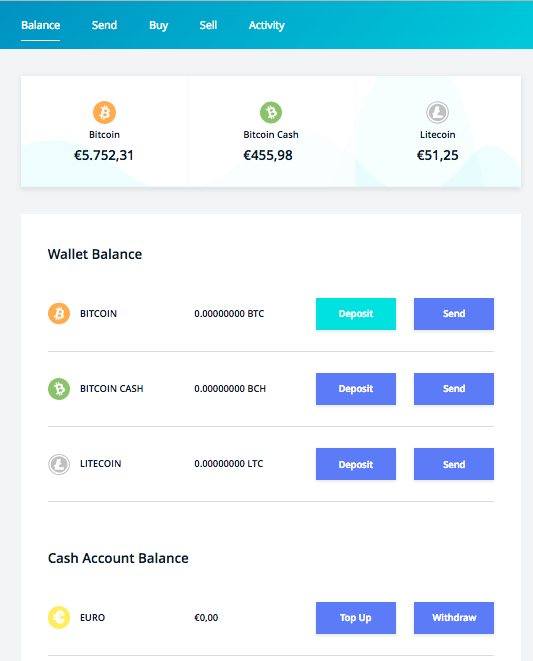 This will show you your Cubits wallet code.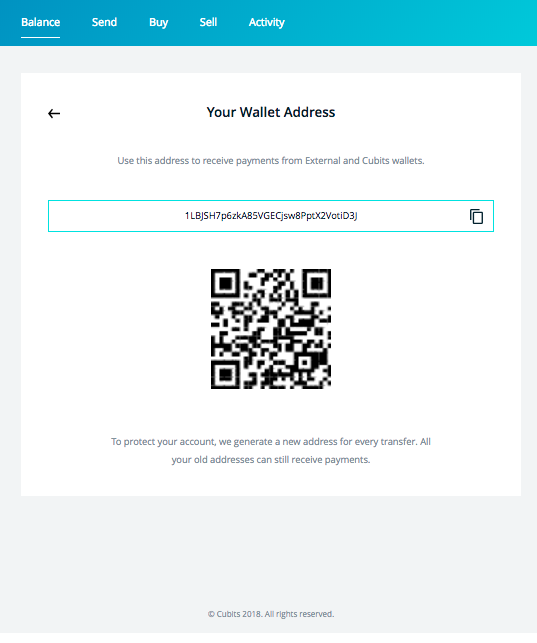 Copy the bitcoin code and go to the next step.
Step 4: Go to the casino (withdraw) and paste your bitcoin code
Step 5: Enter the amount and choose fee (if applicable)
Step 6: Withdraw and you are done!
It takes approximately 10 minutes for the transaction to go through. However, this depends on the casino and may vary.
7 Reasons to use Cubits to play Bitcoin Casino**
EasyTo use Cubits when gambling online and depositing to a Bitcoin casino is very easy. It is just as easy as any other transaction. This guide shows you each and every step in the process from start to finish. From not owning any bitcoins to playing and withdrawing your winnings. 

The best part?

Anyone can use it since it is very easy!
SecureThe Cubits wallet is ultras secure. This is very important in general but maybe in particular when gambling with Bitcoins. Your data and your bitcoins are secure.
Fast depositsWhen making a deposit using Cubits to an online casino you can expect very fast transactions (often to a fraction of the cost).
Fast withdrawalsThe same holds true when it comes to withdrawals. Fast withdrawals is one of the many benefits when gambling online. Cubits ensure that you have your money on your Cubits wallet fast.
Casinos use itIf it is good enough for serious, large companies to use it it should be good enough for the average Joe. Remember there is a reason why the best of the best online casinos use Cubits. Take advantage you too.
Use it on all bitcoin casinosEven though a casino does not use the Cubits payment system themselves you can use it to deposit on the casino just as easy!
Bitcoin, Bitcoin Cash, Lite CoinDo you want to gamble with another cryptocurrency? No problem, buy, sell and send Bitcoin Cash or Lite Coin with Cubits!
There you have it, folks! The ultimate Cubits guide and Cubits Casino guide.
Now, what are you waiting for? 

Choose a casino and start playing with bitcoins within minutes!